OUTREACH SERVICES
To reach out to the needy, the underprivileged and the people of interior villages was very much part of the health care services established by Anjali in 1989. Since inception efforts were made to arrange periodic programs which would help those in need of the services. The first outreach program was Tuberculosis detection program in 1990-91 followed by once a year eye camps for cataract operations, General Surgical operation camps. Gynecology, ENT and Polio operation camps were also conducted. For four years out reach ANC clinics were also conducted in 36 villages.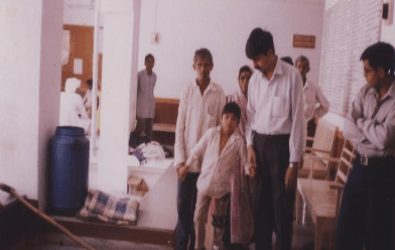 Polio Camp
ENT Camp
Besides patient beneficiaries, when these camps were conducted at Anjali, people from surrounding villages, students of schools, outside doctors, nurses and well-wishers joined as volunteers which helped build rapport between the people and Anjali.
Two outreach programs are permanent feature since last 15 years:

Eye Camps
The first eye camp was conducted in 1995 following which it was an yearly feature till regular ophthalmic services started at Anjali Hospital in 2000-2001. Eye camps in far off tribal areas of Poshina (125 Kms) and Meghrajtaluka (70 Kms) are regularly conducted since last 12 years. The patients were brought in tempo (goods transport vehicle). To this another 10-15 villages were added. The number of patients who attended the camp and number of surgeries performed showed the need for this service.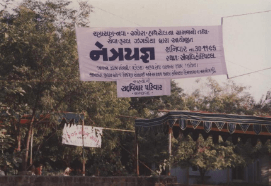 To address the need eye camp was planned every week. A 46 seater bus was purchased for safe and comfortable transit. The figures of last three years camps are:

| | | | | |
| --- | --- | --- | --- | --- |
| Year | Total No. of Eye Camps Conducted | Total No. of Patients in OPD | No. of cataract operations performed | No. of spectacles given |
| 2020-21 Sabarkantha District | 14 | 2433 | 251 | 1395 |
| 2020-21 Aravalli District | 7 | 1202 | 95 | 829 |
| Total | 21 | 3635 | 346 | 2224 |
| 2019-20 Sabarkantha District | 35 | 6616 | 303 | 3539 |
| 2019-20 Aravalli District | 13 | 1792 | 68 | 1051 |
| Total | 48 | 8408 | 371 | 4590 |
| 2018-19 Aravalli Distrct | 30 | 7084 | 599 | 3906 |
| 2018-19 Aravalli District | 16 | 3223 | 148 | 1863 |
| Total | 46 | 10307 | 747 | 5769 |
Patients are examined and refraction of the eyes is done. Those in need of spectacles are given spectacles at concessional rate. Those having cataract are examined in detail, their blood pressure and laboratory tests done. Those requiring cataract surgery are brought in bus along with one relation to Anjali Hospital. Detailed laboratory tests and eye examination done in the hospital and are operated next day. On next day of surgery they are examined and taken back in bus. The follow up examination is done after one week, 15days and 45 days. Refraction is done on 45th day and those in need of spectacles are given spectacles. When the camp is conducted in distant place all the follow ups are done at the place of the camp. Two districts of Sabarkantha & Aravalli and 13 talukas are covered in these eye camps.

Surgical Operation Camps
Two like minded surgeons who give their honorary services at Anjali Hospital joined the outreach surgical program which is being conducted since last 15 years. One surgeon & Anesthetist from Surat and one Anesthetist from Himatnagar joined the team. In these camps elective, uncomplicated general surgical operations are performed. Main operations are benign tumours like lipomas, sebaceous cysts, dermoid cysts , Ganglions, Congenital hernias, Adult hernias, hydrocele, Piles, Anal fissures, Anal Fistulas, Circumcision, excision of cervical lymph glands etc.
Every year three surgical operation camps are performed. One each in distant tribal areas of Poshina and Meghraj taluka and one at Anjali Hospital Ranasan.
The minor surgeries in two tribal locations are performed at the place of camp which is CHC (Community Health Center of Gujarat Govt)
For major surgeries patients from distant tribal areas are brought in bus and kept indoor for 5 days. Follow up dressing, suture removal is done at the place of the camp.
The figures of last three years camps are:

Year

Total No.
of SurgicalCamps Conducted

No. of patients in OPD
No.of operations performed
2020-21 Poshina

1
142
51
2020-21 Anjali

1
93
40
2020-21 Kasana

1
73
24
Total
3
308
115

2019-20 Anjali

1

145

127

2019-20 Poshina

1

185

55

2019-20 Kasana

1

109

34

Total
3
439
216
2018-19 Anjali


1

229

133

2018-19 Poshina


1

168

50

2018-19 Kasana


1

143

42

Total
3
540
223






2001 Earthquake:
After seeing the evening news on 27th January 2001 about the devastation caused by Earthquake in Kutch, Gujarat , it was felt that Anjali should go there with a medical team. Decision was taken in the night of 27th January itself. Sahyog Kushtha Yagna joined with Anjali team. A temporary hospital was established in 14 tents in Ramavav village of Rapar Taluka. Routine OPD, dressings, shifting patients to higher centres, child bith and indoor facility was created. Local community provided strong support and other organisations like Olakh of Vadodara, Shaishav of Bhavnagar, Vishvagram of north Gujarat and Sewa Rural of Jhagadia joined in at a later date and continued the services.
Service NGO of Sabarkantha district: Anjali was selected Service NGO of Sabarkantha district under Public Private Partnership program of Govt. of Gujarat. 36 villages with population of 32936 were selected for intensive maternal and child care services and population of 100000 for delivering hospital based medical services was selected for the program. The main emphasis of the program was to reduce maternal Mortality rate and Infant Mortality rate. It was a multi dimensional program with hospital based service delivery with village level based work with the help of village level workers and field supervisors. The program also included a mobile ANC clinic. This program was implemented from 2007-2008 to 2010-2011.
COVID-19 WORK: Covid-19 work started with the preventive measures. We distributed masks and sanitizers to saving group members and in Ranasan village. In 2021, As the cases increased during the second wave, we saw the need to enter into frontline work. We started with RTPCR collection center and fever clinic. After which we started homecare program for the asymptomatic corona positive patients. 50 patients enrolled. We gave a kit containing essential medicines, pulse oximeter, thermometer, corona care guidelines. In villages houses are very small, which makes it very difficult to isolate one family member. We started isolation unit for those who had no facility at home. Anjali started Corona Sarvar Kendra with 20 oxygen beds. 90 patients were admitted and treated. This work would not have been possible without the help of donors, well-wishers, friends, and the dedication of Anjali staff.